Natural Tangerine Scented Sunflower Oil Soap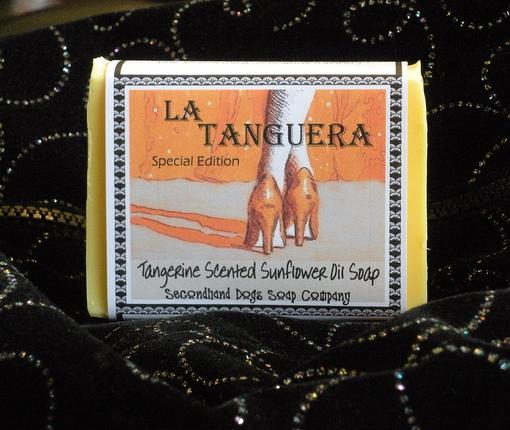 La Tanguera Tangerine Scented Sunflower Oil Soap
For those who like a little scent in their soap, Bill has added natural tangerine essential oil to our wonderful sunflower oil based soap. Like all of our soaps, this one can be used as a shampoo, face, or body bar. It produces lots of lather, and a gentle citrus fragrance.
What is an essential oil? Rather than a product created in a laboratory that smells "exactly like" something, the essential oil comes from the thing itself. Therefore, tangerine essential oil comes from tangerines. That's what we've added here. There's nothing in this luxurious sunflower oil soap but natural ingredients: Sunflower Oil, Palm Kernel Oil, Coconut Oil, and natural Tangerine Essential Oil.
(Shipping and handling for your entire order will be a total of $7.00)
| | | |
| --- | --- | --- |
| La Tanguera Tangerine Scented Soap, 4 oz. | | |
Questions? Do you want to talk to one of us? Want to order some soap by phone? Just call us at 706-289-1596. You can also email questions or orders to secondhanddogssoap@mchsi.com!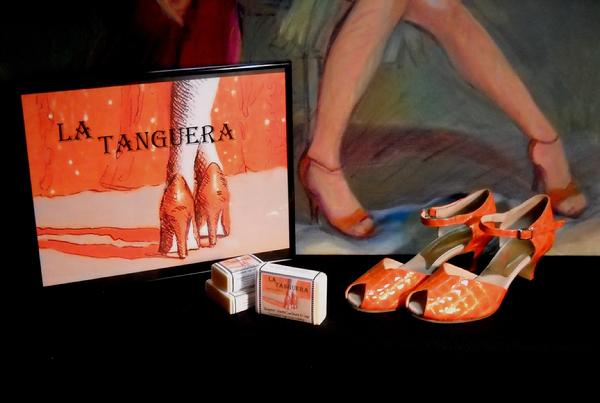 Rebecca's Painting, "Las Tangueras," Print of "La Tanguera," La Tanguera Soap, and Rebecca's tangerine tango shoes
The Legend of "La Tanguera"

At the turn of the century, men outnumbered women in Buenos Aries 100 to 1. One of those women was known simply as "La Tanguera," a dancer so beautiful, so graceful, men were known to sacrifice their lives, their fortunes, and their sacred honor for a single tango with her. Her name was unknown, her tangerine-colored shoes were her signature. Her fate is a mystery, but she will be forever remembered by what she told each fortunate Tanguero she danced with— "Tomorrow we may die, but tonight…...we Tango."



Bill and Rebecca have studied Argentine Tango for several years from excellent teachers, Lynda and Rick Wilson, with a class made up of the nicest people on earth. We decided to dedicate this soap to honor all of our tango friends, and all the other "tangueros" we haven't met yet!
If you'd like to know more about Argentine Tango, and Lynda and Rick Wilson, we recommend their website, www.tangosalon.com.