Rub-A-Dub-Dog

Beef Tallow Blend Soap
We began making soap for relief of dry skin and insect bites for ourselves, and found that it helped our itchy little Westie, too.

It lasts longer than expensive itch shampoos, and makes her shine!

We put no perfumes or fragrances in our soap to draw the interest of insects (especially mosquitos that carry heart worms). Our dogs don't like fragrances, anyway, since they all have pretty sensitive noses! The only smell they love, other than their food, is "anything dead" they can roll in outside... You can bet that our soap is such a good cleaner, that it will clean up your dog faster than anything you've tried, and leave that coat shiny and healthy.

Our good little dogs are all from the pound, so we dedicate our soaps to them and to all the other little friends, who wait at shelters everywhere for their new homes.
Ingredients: Beef Tallow, Sunflower Oil, Coconut Oil, Lye, Water. That's all.
(Shipping and handling for your entire order will be $7.00)
| | |
| --- | --- |
| Rub-A-Dub Dog 4 oz. Whole Bar | $5.00 |
Questions? Do you want to talk to one of us? Want to order some soap by phone? Just call us at 706-289-1596. You can also email questions or orders to secondhanddogssoap@mchsi.com!
| | | |
| --- | --- | --- |
| | "Please consider this a love letter. I LOVE YOUR SOAP. I originally purchased Rub-A-Dub-Dog to wash our little Silky terrier, Garbo. She has a terrible problem with allergies and really suffers with ichy rashes. The special medicated shampoo that we have to purchase from her Vet has not helped her very much and certainly not helped our pocketbook. However, when you love your pets, you will do anything you can to help them. And, we have certainly tried just about everything we could find, research, or discover through talking with other pet owners. Well you said to try your soap because it helped your little Westie with her dry, itchy skin and insect bites too. Well, your soap has sure made a difference. Garbo no longer gets that oily smell she use to have about three days after a bath, her hair is starting to grow back again and her rash is almost completely gone --- this is amazing considering how many products we have tried in the past.. Thank you." Roseanne, Midland GA | |
| | | |
| --- | --- | --- |
| Replace these | One of the real beauties of our Secondhand Dogs soap is that it replaces many rather expensive alternatives. These are products Roseanne discarded when she discovered Rub-A-Dub Dog. | With this! |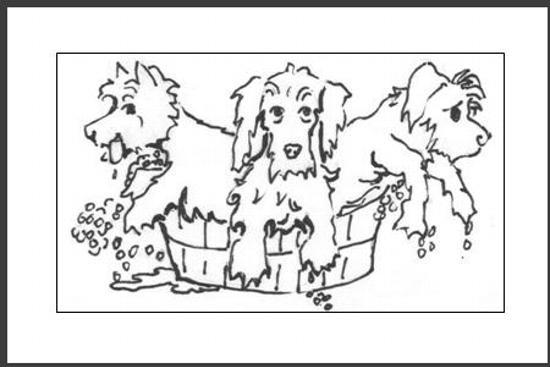 "Secondhand Dogs" by Rebecca Kissel
Artists' Note: This drawing was just a quick sketch to capture the personalities of our dogs, and who better to capture the spirit of our soap for dogs? They can create chaos at times, but we bless every day they've been in our lives. If you missed the photograph of them, check out the "About Us" page.