Mediterranean
Spa

Olive Oil Soap
| | | |
| --- | --- | --- |
| | "I just tried your soap for the first time. I washed my face with Mediterranean Spa. Ooh-la-la! It is lovely. Thanks again," Lynda in Atlanta | |


Our Mediterranean Spa Olive Oil Soap has always contained nothing to irritate sensitive skin, a luxurious soap that will not compete with your favorite fragrance. But now it's even better!
Bill has added a little more olive oil to the recipe which makes this soap leave your skin with a little extra moisture (no, you won't feel oily). This is a wonderful soap for winter when most of us are drying out, or in summer at the beach or in the desert! Give yourself a treat, and throw away the hand lotions and bath oil, and try our new Med Spa.


Ingredients: Olive Oil, Palm, and Coconut Oils, Lye, Water
(Shipping and handling for your entire order will be $7.00)
| | |
| --- | --- |
| Mediterranean Spa Olive Oil Soap, 4 oz. | $5.00 |
Questions? Do you want to talk to one of us? Want to order some soap by phone? Just call us at 706-289-1596. You can also email questions or orders to secondhanddogssoap@mchsi.com!
The Art: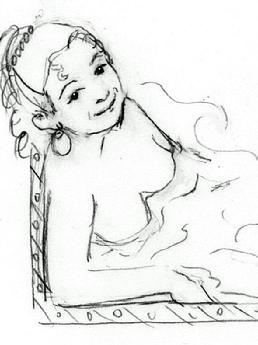 "The Bather" by Rebecca Kissel
Artist's Note: The little nude bather was another of Bill's requests. We thought of a little young lady in a Roman bath. We were associating olive oil with the Mediterranean, and Italy, in particular, where most olives grow.

She came completely from my head, based on many years of studying figure drawing, and doing portrait work. I hope she is sweet and just a little seductive, and rated "G."