Major Billís


All Beef Tallow Soap


Our Major Bill's All Beef Tallow soap moisturizes your skin as it gets you quickly and thoroughly clean. This soap has no perfumes, dyes, swirls, glitter, or twigs. This unmolested creamy soap will maintain your healthy skin for a lifetime.

Besides that, our customers say it has some amazing properties. It has stopped the development of mosquito bites, when the area has been washed with MAJOR BILL'S at the first sign of contact. It has taken the itch from almost any bite you can think of. It has been known to prevent a spider bite from becoming an actual bite when the bar was moistened and the spot of the attempted bite was covered with wet soap. It has reduced the length of misery time with chigger bites to less than two days when rubbed on the wet bite. It took the itch out of poison ivy, and the rash began to heal. It has prevented unwanted fungal development on the feet of one of our favorite soldiers. It has given instant relief to psoriasis, and dermatitis sufferers. All this from a soap gentle enough for a baby's skin, or tough enough for the toughest warrior. What more can it do?
Ingredients: Pure American beef tallow, lye, water
Questions? Do you want to talk to one of us? Want to order some soap by phone? Just call us at 706-289-1596. You can also email questions or orders to secondhanddogssoap@mchsi.com!
| | |
| --- | --- |
| Major Bill's 4 oz. Whole Bar | $5.00 |
(Shipping and handling for your entire order will be a total of $7.00)
One Saturday at the Market on Broad in Columbus, GA, as Bill and I were selling soap, a man rushed up to our table. He said, rather urgently, that he had heard we have some soap that will help poison ivy. I picked up a bar of "Major Bill's" and began to tell him about its ability to take the itch away, and was just recommending that he use some as soon as he got home. He interrupted me with, "I'm in agony RIGHT NOW!" I looked around and realized we had a bottle of water to fill our doggie water bowl (which we always put out for the many dogs who visit us at the market), and I asked him if he wanted to wash with it right now. He quickly answered, "Yes, MA'AM!" I poured the water on his lower legs, and he lathered up the soap and rubbed it up and down his shins.

He wanted to buy the bar, and as we made our transaction, he stood there a moment and quietly said, "It's working already." He walked away like a man at peace. Major Bill's 100% All Beef Tallow Soap to the rescue.--------Rebecca Kissel



On Another Occasion:

A gentleman approached Bill and mentioned he had bought some of our beef tallow soap earlier in the summer, and was very pleased with it. He then said he was an artist and had found yet another use for our soap: washing expensive sable brushes he uses for oil painting. (You can bet Rebecca will be doing that!)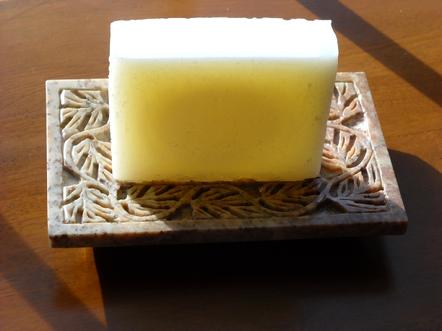 Isn't it a beauty?
Artist's Note: Bill really wanted a winking bull to represent our All Beef Tallow Soap. Since we don't exactly live in bull country, I took the rear of the bull from the giant bull statue on Wall Street, but the head of the bull is pure (as pure as I could get) Texas Longhorn. We love Texas, and our tallow comes from there. I stopped with a black and white drawing, and only later began painting little watercolors for our labels. ----Rebecca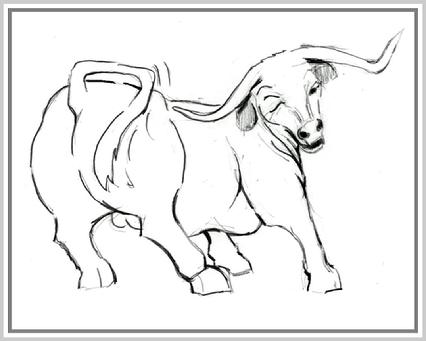 "Major Bill's Bull" by Rebecca Kissel