Sunshine
Unscented Sunflower Oil Soap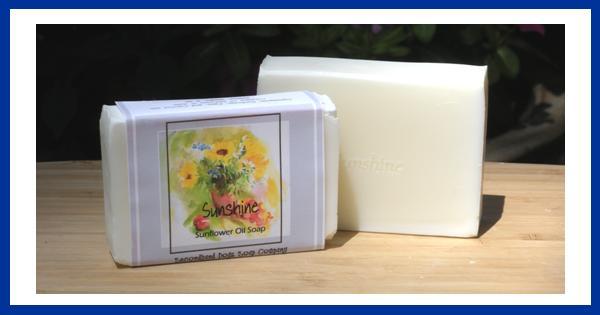 Sunshine Unscented Sunflower Oil Soap
| | | |
| --- | --- | --- |
| | "Okay, I was on a roll. I decided to give myself a shampoo using your soap called 'Sunshine.' And, I love it too. My hair feels cleaner, thicker, and, of course, I use it all over my body. My face has never looked so good … no kidding. I mean really clean – no whiteheads, no blackheads, and it looks brighter. Somehow stuff just seemed to roll off the more I used it. I know this sounds strange, but I'm being honest. My husband did notice and said he liked my new makeup --- I wasn't using any!" Roseanne, in Midland | |
Sunflower fields spread for miles and miles in the great state of Kansas. Not only are they beautiful, they produce the seeds and precious oil we use in this luxurious sunflower oil soap.

You will love the moisturizing quality of Sunshine Soap; it's our most moisturizing soap. You will also be surprised at the copious amounts of lather! It makes a wonderful shampoo bar and leaves your hair healthy and shiny without conditioners. Imagine that.
You'll be spoiled. As you should be.
Ingredients: Sunflower Oil, Coconut and Palm Oils, Lye, Water
| | | |
| --- | --- | --- |
| Sunshine Sunflower Oil Soap 4 oz. $5.00 | | |
(Shipping and handling for your entire order will be $7.00)
Questions? Do you want to talk to one of us? Want to order some soap by phone? Just call us at 706-289-1596. You can also email questions or orders to secondhanddogssoap@mchsi.com!
Purse Tin for Sunshine Sunflower Oil Soap
This little tin slips right into your pocket or purse so you can take a little piece of your Sunshine Sunflower Oil soap with you wherever you end up. You won't need to use harsh liquid detergents in the Ladies' or Gentlemen's room, and your hands will love you for it. (Since I wash my hair with this soap, too, I'm good for a weekend with this little tin in my pocket.---Rebecca)

This little tin comes full of Sunshine Sunflower Oil soap and with two refills.
| | | |
| --- | --- | --- |
| Pocket Tin Sunshine Sunflower Oil Soap $3 | | |
"Sunshine," by Rebecca Rich Kissel
Artist's Note: I did this little painting in a watercolor workshop I took from my friend Eric Maddox. He taught me a thing or two about "granulation," which is painting two colors on the same space, and about the dynamics of diagonals. I tried to get them both going in this piece. Although I did it hurriedly in the small amount of class time we had, I've always liked it. It seemed the perfect "spokes-picture" for Sunshine Sunflower Oil Soap.
Giclee prints of this painting are available here.