Lemon Cream Shampoo Bar
Natural Lemon Scented Sunflower Oil Soap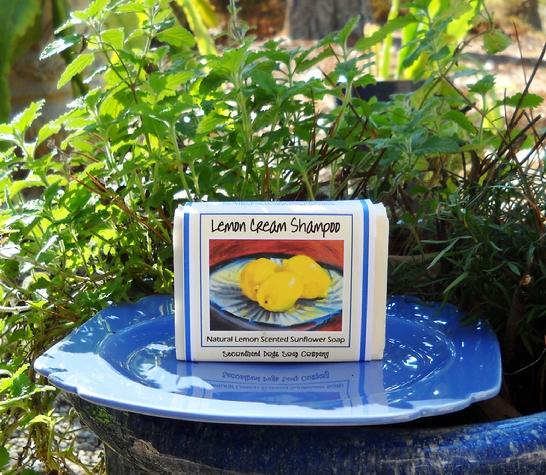 Lemon Cream Sunflower Oil Soap
This fragrant sunflower oil shampoo bar has all the pure ingredients found in our Sunshine Soap, plus the addition of lemon essential oil.

Your hair deserves the same gentle, non-drying treatment that your skin enjoys.


Just rub the bar on your wet hair, lather, rinse, and STOP. No repeat necessary, and probably no conditioner, either. Squeaky clean and soft shiny hair that even feels thicker. This soap bar can also be your face and body bar with the same happy
outcome: moist, soft, comfortable skin.


Great for travel, too!
Ingredients: Sunflower, Palm, and Coconut Oils, Lemon Organic Oil, Lye, Water
| | | |
| --- | --- | --- |
| Lemon Cream Sunflower Oil Shampoo Bar | $5.00 | |
(Shipping charge for your total order will be $7.00)
Here's what one customer wrote us:

"Thanks so much! I absolutely love the lemon shampoo. After using high-end, expensive shampoos for so many years, I wondered about using a bar of soap. I tried it on a Saturday, when I had time to rescue my hair if necessary. I was amazed at the nice lather, the lovely and light fragrance, and the ease with which it rinsed out. So not only does my hair look shinier, the shampoo saves me time in the shower and my hair seems to dry more quickly. I forgot to re-order last weekend, so sadly used up my last little bit yesterday and eagerly await my new supply.

I really appreciate the gift soaps - a great opportunity to try new soaps, which obviously leads to more purchases. :-)"

~Nancy from Seattle



One of our favorite Lemon Cream customers, Nicole Deal, sent us this:
"Wanted to share my [facebook] post with you!
We have two, and love them!
Rebecca Here: My hair used to be dry, with split ends. I used very expensive shampoos, conditioners, and salon treatments to moisturize it, but nothing worked. My friend, Roseanne, (on the left, and on our testimonial page) talked me into washing my hair with my own soap, and WOW. It's so fast and easy, and my hair no longer is dry. My hair is also white, and it stays white with no bluing (yuck).

| | | |
| --- | --- | --- |
| Roseanne's Hair | | Rebecca's Hair |
I used it on my granddaughter when she visited, and her hair was shiney and beautiful. It has more body, too.

By the way, it's a wonderful, fragrant face and body bar, too. One bar of soap that does it all.
.............Rebecca Kissel
Questions? Do you want to talk to one of us? Want to order some soap by phone? Just call us at 706-289-1596. You can also email questions or orders to secondhanddogssoap@mchsi.com!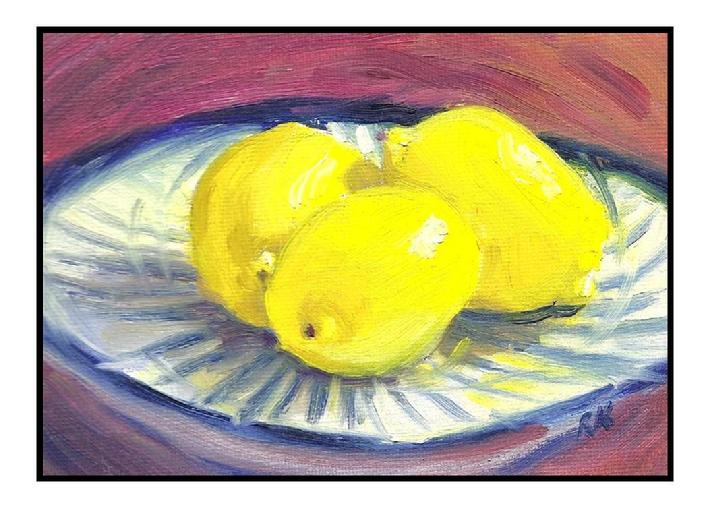 5 x 7 Giclee Print, Lemon Cream
Artist's Note: I did this little (5" x 7") oil painting of lemons out of our fridge. I liked the idea of using the three primary colors to make the yellow lemons "pop." I tried not to be too careful, but to show brush strokes and mess up the edges a little. In the end, I think the lemons are quite creamy. I love this little picture which sits in the window over my sink.........Rebecca